The outdoor area or garden area is an important part of your home. It is the site for many activities like pool parties, casual cocktail evenings, barbecues, etc. Moreover, most people prefer spending their evening time in the garden area to get away with the whole day's tiredness. That is why it is necessary to have a proper outdoor setup for socializing and entertaining, or it would look like a neglected bare space. Fairdeal Furniture offers innovative, attractive, and the latest outdoor furniture options that would definitely leave you in awe. Here is a step-by-step guide for you to decorate your outdoor furniture with Ashley Outdoor and Patio Furniture.
Shades for Outdoor Furniture
Outdoor spaces have full sun exposure, and sometimes they are overheating. Planning an outdoor party on a sunny day could be a problem as you and your guest will start sweating and agitates. Therefore natural coverage with tress, plantation, or nearby building can save you from sun exposure. However, you may go for shades or coverage to cover your outdoor area for extreme sun exposure in the absence of natural shades. There are many ways to add shades to your outdoor setting. Some of them are:
Comfortable Pergola Setting
If your garden area or outdoor has a large area, you can invest in installing a pergola. Pergola helps you create a partial shade through its sturdy vertical posts to support the overhead open structure traversal grid. Pergola can be beneficial in many ways. For instance:
The overhead traversal grid structure offers shade from full exposure to the sun. You can arrange a dining table or chair set under it without any worry of being exposed to the sun.
Moreover, You can make a statement with pergolas as they can be customized according to your style, interiors, and taste. You can choose among a wide variety of shapes, sizes, and styles. Moreover, you can also choose among the type of material to be used for manufacturing.
Pergolas are extremely functional. You add necessary elements and accessories like a speaker system, fan fitting, curtains, etc., as per your needs.
Fairdeal Furniture offers a customizable option for any pergolas and outdoor accessories.
Umbrella & Base
Another shading option, besides the pergola, is to add a standing umbrella around your garden. Standing umbrellas are movable and adjustable. You can easily change the position of the umbrella according to your setting and seating arrangements.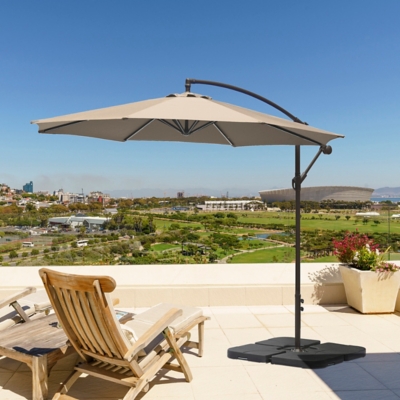 Outdoor Furniture
There are various factors that you must keep in mind whenever you decide to furnish your outdoor space. For instance, you must consider the weather condition of your region as your outdoor furniture will have to cope with snow, salty seawater (on islands), rain, heavy wind, and scorching sun. Thus, you must choose quality material so that it copes with any harsh weather without fading, degrading, or cracking.
Moreover, you must also keep in mind your guest. It would help if you decorate your outdoors considering how often your guests visit you. Thus, to create a good entertainment zone for your guests and your family that lasts for a lifetime, go for the furniture that is durable and comfortable, and weather resistant. For instance, you can go for plywood HDPE lumber. Fairdeal Furniture offers outdoor furniture such as outfitted sofa with quick-drying capability, cushions with moister repellents, buildup with bacteria resistance.
Lastly, your outdoor furniture must align with your interiors, taste, and personality. Every space of your home is special and unique, and your outdoor furniture must compliment your home and add a statement to it.
Add Plantation
Greenery surrounding your outdoor can elevate its aesthetic pleasure. Plantation adds natural charm to your outdoor space. Moreover, it can also serve as shades to provide shelter from scorching and extensive heat. Also, it can help you to be out of sight from your nosy neighbors.
Adding low-maintenance plantations to your outdoor space is a wise option as you could be liberated from the worry of taking care of it all the time. Annual plants such as lantana, hibiscus, etc., can add versatility and a striking look to your outdoor space with their easy-care bloom and vivid colors.
However, if your land is barren and cannot grow plants, you can add artificial plants and artificial grass as well. Artificial grass adds greenery and is low maintenance, weather-resistant, reduces water usage, and is safe.
Moreover, plants and feeding trays attract birds of different types as well. The chirping of birds gives soothing effects to ears and relief from the noisy day at the office. It relaxes your mind and makes you look fresh.
Outdoor Accessories with Outdoor Furniture
To give a complete touch to the outdoor space, decorate it with some accents and unique pieces. Outdoor accessories give a finishing touch to your outdoor furniture and enhance the look of your casual parties that you often arrange. Some of the outdoor accessories that you may like to add to your outdoor space are:
Outdoor Rugs
If you have a large outdoor space and you want to use it for multiple purposes, outdoor rugs may help you section off the place. You can use bright color rugs with bright patterns. However, make sure that your leave at least 18inch space between rugs so that people can move around more freely and comfortably.
Lighting
Incorporating good lighting into your outdoor space can intensify the look at nighttime, particularly when you are hosting a party or an event. If you are decorating a farmhouse outdoor setting, you can add string lights and lanterns. Moreover, if you have a pergola, you can use a hanging chandelier to add a sophisticated touch. Stair lights can also prevent you from falling in the dark.
Cushions
Some of the outdoor chairs are metallic, which is not comfortable for many people. You can use cushions and pillows to make your seating arrangements more comfortable. Moreover, pillows and cushions can make your seating more inviting and cozy as well.
Conclusion
World, these days, has been going from drastic changes due to Covid 19. People no longer host their parties and event out of home in big halls and restaurants. Moreover, leaving house unnecessary have become unsafe as well. However, there still is a need to have some fresh air and to interact with people, and the only way is to invite them to your homes. Since an indoor home setting seems to be quite boring for many people, it is likable to have a cozy outdoor setting to interact with your friends and family. Moreover, outdoor space also allows you to have some fresh air in the privacy of your home without going out. Thus, good and relaxed outdoor furniture can help you achieve an inviting setting in your own home.
Let us know in the comments below how you have planned to decorate your outdoor space with our outdoor furniture.